Storipur® - Activities
Storytelling Sessions & Performances
Storytelling Workshops & Training Programs
A Mother's Day special storytelling session at Kahaani Box- 14/05- this Saturday. For registrations, call 9900838500.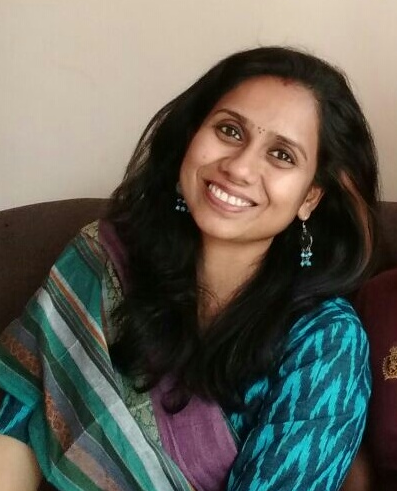 Priya always dreamt of flying on her own magic carpet. And yes today, she flies to different lands with different people on her story-carpet! Whenever she comes across an interesting story, she has to share it…aha.. that's the story of this storyteller! A pharmacist by qualification, she truly believes in the power of stories & storytelling. Having worked in different streams like – being a marketing personnel in pharamaceutical companies, a news reader in a news channel, an airline staff in the airport, a teacher/ facilitator in a school (ya ..many things!)..she believes that being a storyteller gives her the greatest joy! For almost 8+ years Priya has been telling stories across age-groups as a professional/ performance-storyteller. She has told stories in schools, colleges, museums, parks, railway stations, corporate offices, libraries, book-stores, at literature festivals etc. across the country. She is a translator and has translated around 12 books to Tamil for Pratham Books. She writes 'sustainability stories' for magazines and a few are up on Down To Earth magazine. She believes in Michael Margolis's words that if one needs to know about the culture, one needs to listen to the stories & if one needs to change the culture, then the stories told too need to change.
To know more about our storytelling programs, leave your contact details here.
Here is a read-aloud, Uma Vs Upma.

Little things can make big differences!

Revisit your childhood through this old tale from Tamil Nadu ! Click the link to watch and enjoy this story-telling video.

Here's a tribute to our Forest Man of India for this Vana Mahotsav. Click on the link to know about him !
I have been immersed the 2 hours of virtual session in the magic of storytelling guided with love, experience and humor and such a generosity of spirit. How to tell stories in my own way …And how to be a part of that immense tradition! I wondered if storytelling was for me.. I discovered that storytelling was in me! Thanks a lot.
Shalini Nandakumar
Priya is a very good storyteller! She is good with kids & they identify well with her. You should definitely attend one of her sessions.
Ashwin Mony
Priya Muthukumar …amazing capacity to keep the audience engaged with her many eye-catching props & effective storytelling. Kudos & keep growing.
Abhilasha Dangi
I attended a day long workshop by Priya Muthukumar on storytelling in the classroom. Priya is very calm & the same timea very energetic trainer. She knows how to create energy in the room and keep it alive. I must admit as a storyteller I returned inspired to use action-based stories in my vernacular language during my classroom & other public storytelling sessions. Thank you for all the love & inspiration.
Sangeeta Goel
Thanks so much Priya. You are fabulous. Waited for months to attend your session and it was totally worth it!
TeAnushree Arora
Keep rocking! Everyone has a story to tell and you bring out the best.
Papitha Cader
Beautifully Priya connects with children. All her storytelling sessions are not only fun but have depth of learning. Even for adults too!
Hari Rao
Doing an excellent job. My children look forward to Priya's sessions at school. The workshops are fantastic in terms of improving teachers' effectiveness.
Subhash Iyer
You were simply amazing, never heard or seen anyone narrating a story so interestingly like you. The energy in the training was awesome. Thank you for the wonderful experience. Iam looking forward to tell stories to my clients today.
IG Property
It was very, very good! Not a second of boring moment or losing track. Her energy , her control over kids, her way of engaging, voice modulation, singing, dancing. In split seconds she switched from one to the other.
From a parent after a session at Unnati Library, Whitefield, Bangalore
A very delightful session. The teacher trainees at IMTC-Koramangala went home truly inspired. Your inputs and tips about storytelling, as well as using various mediums to bring stories to the children was educative. You genuinely reached out to us…what inspired me the most is how you recycled objects into amazing puppets. I' m sure the mothers in the group will start narrating stories, beginning today. Best wishes to you.
Latha Rao
Director at Indian Montessori Training Centre (IMTC)- Koramangala, Bangalore
Thanks for the wonderful session. It was a new & great experience for all of us.
Pooja
Rittal India Pvt. Ltd., Bangalore after our storytelling session at their Women's Day event
Fun-filled, interesting, energizing session. Loved the way you related the concepts to stories and made students understand the importance & use of storytelling. Students were happy with the session.
Latika Bhatt
Asst. Prof. Textile Design, NIFT Mumbai
The students learnt a lot by enjoying themselves. Thank you so much for sharing your knowledge & valuable time with us.
Rupali Pandit
Associate Prof., NIFT Gandhinagar